This website is the result of a visit that Kathy Selbrede (pronounced sel-BRED-ee) made to Macon, Georgia in early February 2009. Her story is on the backside of a color flyer which was circulated at Macon's 2009 Cherry Blossom Festival.
---
When Kathy visited Macon in early February of 2009, she had no intention of prying the cover off of what was really going on the Macon Animal Shelter, or learning so much about the politics behind the tragic abuses of animals that were being allowed to continue there daily.
Kathy is a resident of Texas and has family in Macon. Her involvement with and concern about the Macon Animal Shelter began when she was driving to Macon to visit family and enjoy some vacation time. As is true for many animal lovers, when Kathy saw a dog lying in the freeway median on her way into Macon, her conscience would not allow her to just drive on by.
Trusting that Providence had caused the dog's path to cross her own, she and her husband stopped to see what they could do to assist the dog. In taking steps to properly care for this animal, Kathy became embroiled in a cause about which some Macon citizens were aware and had tried desperately to fix, and about which many others were aware but were either too overwhelmed, too intimidated by law enforcement authorities, or too busy to fix. The horrors she uncovered robbed her of her ability to sleep; she continues to suffer bouts of insomnia. She cannot fathom how Macon's civic leaders and citizens who knew what was happening to animals at the Macon Animal Shelter – animals that human kind has failed – could sleep at night. She shared what she learned, as well as suggestions for change, with Mayor Reichert, the Macon City Council, and beyond.
---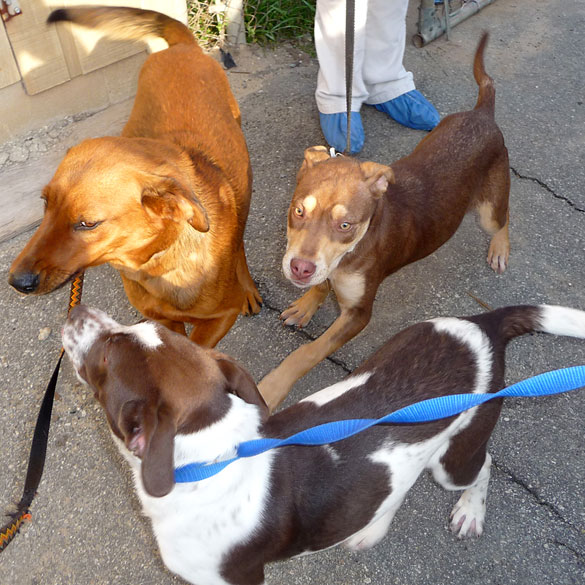 Clockwise from top left:
(1) The intelligent and beautiful Maggie (short for Magnolia), who was found laying in the median on Highway 96 just east of Reynolds, GA. A week later, a tornado touched down in Taylor County in the exact area where Maggie was rescued. Fortunately for Maggie, she was safe and warm that night at All About Animals in Macon, giving birth to her new puppies -- Bella and Tory. Bella was quickly adopted into a loving home. Tory (named for her being born during the tornado that may have killed her had her mother not been rescued) was adopted after becoming a "dog with a job," bringing all the joy and life of a warm, soft, playful puppy to patients in a nursing home in Macon. Bella and Tory had some litter mates who were born weak and sick, probably as a result of their mother's malnourishment while surviving along the freeway, and we look forward to seeing them in the future at the Rainbow Bridge. On March 22, 2009 Maggie was adopted into a family near Macon who loves her dearly!
(2) Ana (short for Anastasia), the gentle brown puppy in Kathy's story who was "euthanized" early on February 11. (Surmising from the Macon Animal Shelter's policies and practices at the time, Ana was put into the gas chamber with the other animals whose time was up that particular morning, because Dr. McCommon, the Shelter's veterinarian, never came to treat her after shelter employees acknowledged that she had been sick for days.)
(3) Firebrand (taken from the phrase in the Bible verse Zechariah 3:2, "a brand plucked from the fire"), the spunky English Setter puppy that everyone else calls Brandon for short. Martin and Kathy paid the $75 adoption fee to extract Brandon from the Macon Animal Shelter and transfer him to All About Animals. Brandon's surgical scars from his neutering surgery at the Shelter were badly infected. The rescue group treated his infections and once they were cleared up, they very quickly found Brandon a great home where he now lives like a king with his new family on a 100-acre ranch in south Georgia.
All three dogs should have been given the chance to find loving homes. Shelter Reform is happy to report that the community of Macon is working to make things right for all dogs, present and future, who pass through their animal control and shelter system.
Maggie's two surviving puppies - the rest of her story
Bella knows a good thing when she sees it: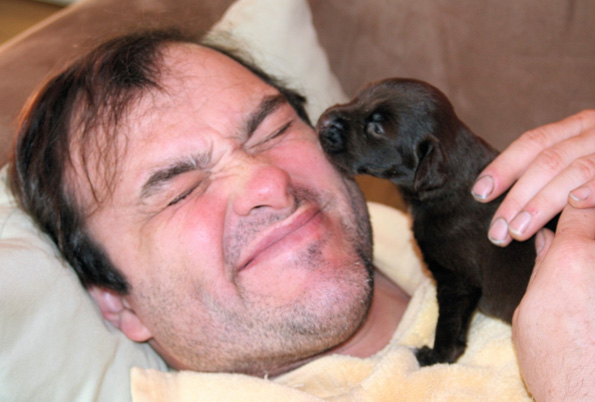 Tory (short for Tornado) isn't quite ready for her close-up: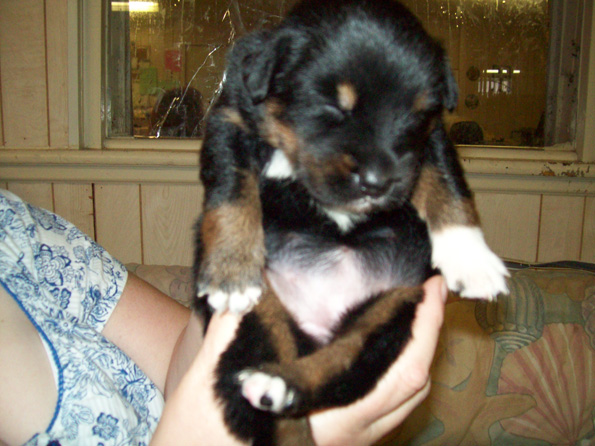 Maggie was adopted through All About Animals at PetSmart on March 22, 2009. She hit the jackpot with a wonderful, loving family! Here she is with her new Mom: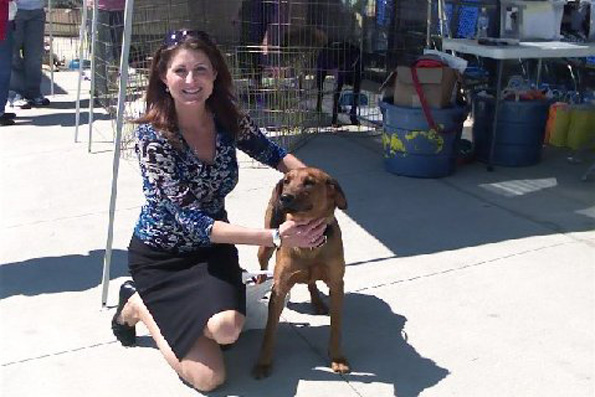 NOT EASILY DISMISSED
OR WRITTEN OFF

Far left liberal political and social philosophies are often automatically assumed to go hand-in-hand with a concern for animals. These stereotypes are somewhat understandable when one considers that in our current society animals have more rights than unborn humans do. But neither stereotypes nor current politics dictate what is true and right. Man's duty to care for animals is a moral issue that spans the entire spectrum of political and social philosophies.
Kathy Selbrede loved animals and respected life long before she became a Christian at age 27. As she studied the Old and New Testaments, she became perplexed about how many ways the modern church at large deviates from following "every word that proceedeth from the mouth of God" (Deuteronomy 8:3, Matthew 4:4). Kathy finally realized that Christianity in America has simply been deteriorating in content and focus since the colonial era.

Kathy now follows the uncompromising approach to the Bible pioneered by the Puritans. A strict Constitutionalist (and recovering Republican as a consequence of becoming Biblically consistent), she is driven solely by the scriptural requirements found only in the Law of Moses regarding justice for man and beast in society. Kathy's visit to Macon in February was sandwiched between Christian conferences in nearby cities, where she and her husband Martin manned booths promoting an exceptionally strong and traditional conservatism in regard to the Bible and its authority over all areas of life and thought. She is the strongest possible advocate for personal responsibility and stands firmly against liberal notions of the nanny state.
Kathy makes common cause with the animal rescuers because they are quite right. As she quotes in her flyer, "The righteous man hath regard unto his beast, but the tender mercies of the wicked are cruel" (Proverbs 12:10). To care for God's creation does NOT mean leaving off caring for our fellow man. God calls and expects us to do BOTH. God's purpose reaches beyond man; all of His creation is for His purpose (Job 38:26-27). See Biblical Ethics for Kathy's detailed position.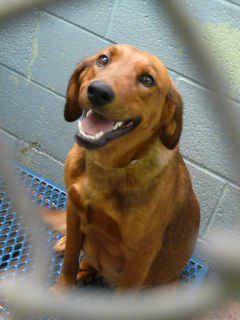 Here's Maggie (above) during her stay at the Macon Animal Shelter. Animal Control Officer Nathan Millwood went out of his way to make sure she was treated well in the facility.
This website wouldn't exist if Maggie had not been on Georgia Highway 96 on Sunday, February 8, 2009 as the Selbredes were driving through Reynolds, Georgia on their way to Macon. They did not come to Macon expecting to do anything more than enjoy time with family. Thanks to Maggie, the light of scrutiny has been shining on the Macon Animal Shelter more than before and things are improving by leaps and bounds not only for animals who end up there, but also for the people who care about them.